Mobile phone companies are certainly an innovative lot. Adding new features to handsets is often the way to the discerning Indian customer's heart.... and wallet.
Having struck the right chord with the buyers with FM radio-equipped and multimedia phones, the cell phone makers are now concentrating on a new trend -- dual SIM phones.
Many companies are coming out with these handsets, fondly referred to as 'do dilwale phones'.
Reliance too is planning to bring out dual SIM phones which supports GSM and CDMA.
Read on to know more about dual SIM handsets available in India: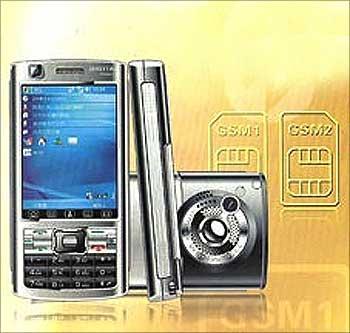 350)this.width=350;">
1.ZTC N 98 -- Rs 9,450
The handset has the following features:
Integrated TV
FM Radio
Bluetooth
FM MP3 MP4 and multimedia player
Handwriting PDA
Supported GPRSPDAMMS and WAP
Supported T Flash Card Free 256 MB included
Stereo sound
2.0 MP camera
Video recording
Image capture while watching TV
3.0 inch QVGA screen
Warranty: 6 months replacement and 6 months repair
2. ZTC Dual Sim Phone V 180 -- Rs 6,250
The handset has the following features:
6 speakers
Touchscreen
Bluetooth
1.3 mp camera
Voice recorder
WAP browser
Device to store receive, send and view messages for both SIMs
Network 900 1800 GSM
MP3 player
Video player
PDA organiser
Screen size 2.2
GPRS
Handwriting recognition
3. Dual Sim Phone With TV -- Rs 7,999
The handset has the following features:
All local TV channels on phone
1.3 MP camera
Bluetooth
Radio FM with or without earpiece
MP3, MP4 player
Video player
Touchscreen
4. Samsung Duo from Tata -- Rs 11,999
The handset has the following features:
1.3MP camera
Bluetooth
MP3 player
Micro SD card slot
Global roaming
5. INTEX IN 4477 -- Rs 3800
INTEX IN 4477 is a voguish Dual SIM (GSM+GSM) phone with video and audio features.

The handset has the following features:
2.4-inch QVGA screen
Plays MP4 and 3 GP videos
Expandable memory up to 8 GB
Tri-band operations (900/1800/1900)
USB-PC connectivity
Bluetooth
VGA camera
FM radio
Phonebook memory of 1,000 contacts
Long battery providing talk-time of four hours
Stand-by battery time up to eight days
6. INTEX IN 2020 Elegant -- Rs 2,800

This is also a GSM + GSM, dual SIM phone. It comes as good news for all FM fans. Carrying ear-phones for listening to FM, being now passe, the phone doubles up as a radio on stretching out a small antenna on its top.
The handset's other features are:
Audio player
Expandable memory
Torch light
Auto call record
Battery talk time of 4 hours
Battery stand-by time of up to 7 days
7. Micromax X250 -- Rs 3499
The handset's key features at a glance are:
Dual GSM-Dual-Band (900/1800 MHz)
Display 65K Color QVGA (176*220 Pixels, 2.0 inches)
5-way navigation key
Motion sensor
Torch light
Camera, music
Multi format music player with (MP3 / AMR / MIDI / WAV)
Background music playback
Stereo FM Radio/Recorder (with Telescopic Antenna)
Speakerphone
Games
Bluetooth
Others:

Nokia models available in dual sim options are
Nokia 6230i Twin SIM
Nokia 3410 Dual SIM
Nokia 8210 Dual SIM
Nokia 6100 Twin SIM
Nokia 3100 Twin SIM
Nokia 2100 Twin SIM
Nokia 3200 Twin SIM
Nokia 7210 Twin SIM
Nokia 3650 Twin SIM
Nokia 3650 Twin SIM
Nokia 7250i Twin SIM
Nokia 7250 Twin SIM
Nokia 6610i Twin SIM
Nokia 3510i Twin SIM
Nokia 3510 Twin SIM
Nokia 6310 Twin SIM
Nokia 6210 Twin SIM
Nokia 8890/8850 Twin SIM
Source: Rediff.com